Gavleån belonging to one of the lower Norrland forest rivers, with a catchment area of ​​about 2460 km 2. The river has an average discharge of 20 m3 / s and is only about 15mil from Stockholm!
In its 25-kilometer stretch between Gävle Bay and Lake Storsjön is the regulated by six power plants.
An image from the distance at the old stone bridge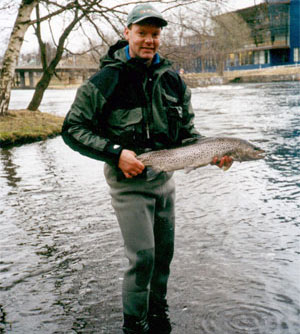 Kim to visit, with sea trout catch
The lower section contains rapids, necks, delicate ironing and is ideal for spinning and fly fishing. There are also two handicap bridges in Boulogner forest. Inside the town center that is from the sea to the first rapids, it is 2-4 meters stone piers. From the castle, and up to 1'a power plant, you have a nearly constant stream of water mixed with pools. The upper half of the route passes also through a very nice park, it's almost a little "English" trout fishing feeling about it.
When the river is governed by power flow can sometimes be low in the summer and make the river difficult caught under these conditions.
Salmon and sea trout are only in the lowermost part of the river between the sea border at Skeppsbron and Strömdalens Power plant in Boulongers forest in central Gävle's western parts.
An estimate of the mean value of fish landed in the last 5 years are 50-75 sea trout and 5 to 50 salmon each year.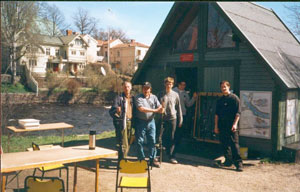 Here at the clubhouse, you can meet for a little fishing chat and more.