Stockholm's stream offer Metropolitan Fishing in the town center, on either side of Sweden's Houses of Parliament runs Lake Malaren out in the Baltic saxifrage water. Here at a short distance fished it hard for salmon and other species that thrive in the healthy stream are from Lake Mälaren. Salmon fishing has declined, reduction in releases made ​​in recent years. But trout released into large amounts and it ensures a continued good fishing.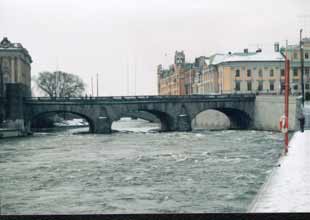 The picture shows Perteren. Photo: Per Edlund.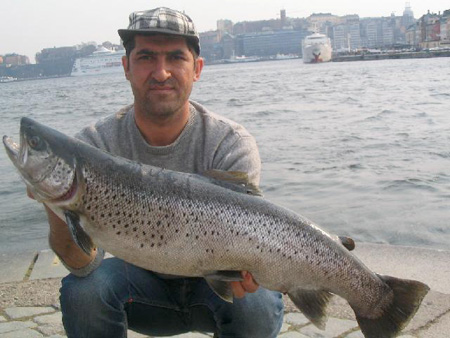 Large trout took the kurdish-eagle fly. weight 8.02 kg caught in May of Baki Turhan
Fishing in Stockholm stream is very dependent on water flow. Is it low water in the lake Mälaren limited fishing at the lower reaches of the stream and it is more like a coastal fishing, when the water becomes still. But when conditions are right and the water rapids in the stream, then it is fishing in the highest class, for salmon and sea trout. Fishing in Norrström also known as the ghetto, are sometimes excellent and here are fishermen often close together, the place is short. When the fish bite, it is far down into the water about 3-5 m and select the fish rushing under the bridge will fight hard. It is possible to climb down on the ladders to lift the fish.
Both channels come together after a few hundred meters at Strömparteren and here it is possible to wade out and try your luck with a fly rod. But it must here be careful in his wading, then you have to go against the stream back. The next popular fishing spot is outside the Grand Hotel where the rapids meet the Baltic salty water. From the pier and the water is a few meters and here are lots of fish.
Fishing can also sometimes be good around Djurgården, where you can fish in Djugårdsbrunns canal and surrounding waters, but then it is pure coastal fisheries. Here is environment friendly with parks and greenery. Floating Rings fishermen are often seen in this area. Some periods of the season are treated to good fishing for other species such as the summer when it often becomes a very good walleye fishing in the stream.
Full control of the situation, the fishing club Strömstararna and their website are under links in the menu.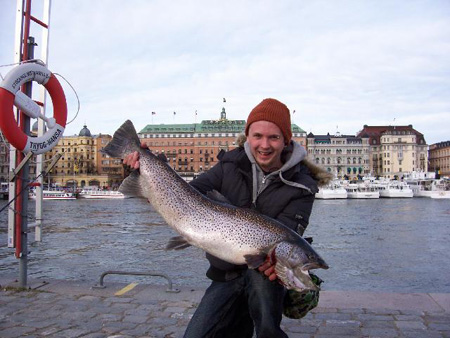 Big trout at about 9.5 kg, caught in stockholm stream