Ångermanälven is an expansion of large river with a large Short fishing area called Upper Ångermanälven KFO. The area is about 6 mil long and extends from the border area Volgsjöns FVO south of Wilhelmina to the border with Noret villages Conservation Area south of Åsele. Almost the entire route are given over to sport fishing except short portions near the power plant dam.
The entire river is accessible as road 90 follow the river along the north shore and it is also a road on parts of the south side.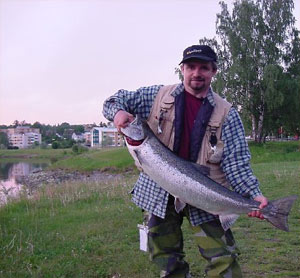 Tony Ekholm from Avesta with a nice salmon 8.9 kg. Photo: Olle Sundström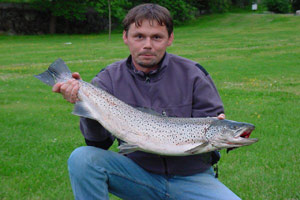 Olle Sundstrom with trout, weight 5.7kg.
With regard to fisheries in Ångermanälven is primarily on Nipstads fishing as you can get salmon. It caught more salmon than in most places in the country. Fishing is regulated and to book a fishing license is necessary to be sure of a place.
Solleftea fvo extends approx. 10 km downstream after Power Plant in Sollefteå. Opportunities for fishing for salmon and seatrout are found along the entire river stretch.