The river Rönneå is the stream of the west coast that holds the southernmost Atlantic salmon. It is approximately 60km long and it has the second biggest tributary in Skåne and it springs from the lake Ringsjön in the Hörby area and runs northwest through Munkarpand Ljungbyhed and along highway 13 towards Klippan. It then continues under highway E4 by Rönnliden and also under E20 by Skärplinge and then ends in Skälderviken in Ängelholm.
There is also a tributary stream Bäljane, which connects to the main river west of Klippan. Sportfishing clubs have carried out habitat management in the river and this has lead to better salmon fishing.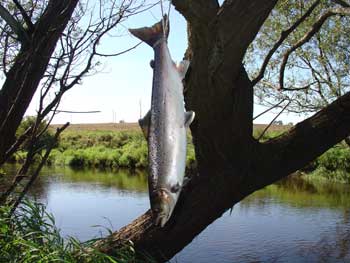 Rönneå Salmon taken by Alexander Smith
Big Trout taken by Alexander Svensson weight 5kg Sept. 2004
When then water level is low, Rönneån has much better fishing than its tributaries but when the water level is high, the streams Bäljaneån and Rössjöholmsån are better rivers to fish in. Some stretches of the river are not very accessible and it is therefore difficult to land fish there.
Salmon over 10kg are caught every year here and the bigger salmon start their journey upstreams in late March and continues into April-May. During midsummer the smaller salmon called ,grils arrive. The sea trout starts wandering upstreams between June and July and reaches its highest point in August,September.
The record for salmon was taken in 1991 and it is13,5 kg. 1996 was the best season ever and 500 salmon were caught. Most of the reproduction of salmon and sea trout takes place in the streams Bäljane ån, Rossjöholms ån and Pinne ån.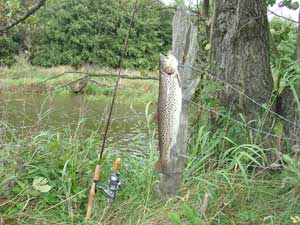 Trout of 2.5 kg caught by Alexander