Ätran belonging to one of Sweden's, better salmon fishing waters. With a very special, genetic salmon stock. Ätran has its source from Västergötland where the river is slowly but surely looking down towards the coast through scenic Ätradalen. Just below the dam Ätrafors about 2.5 mil from the outlet to the sea flowing tributary Högvadsån together with Ätran. Flow into the sea, the Kattegat in Falkenberg.
Here we have worked to create a good fishing area. has been by liming created good conditions for reproduction and is now a completely self-reproducing salmon stock.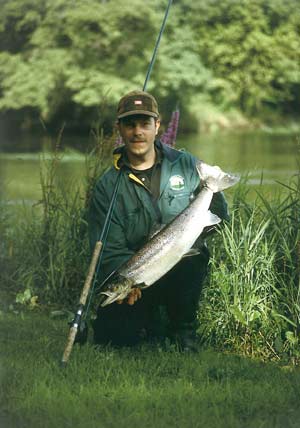 So see them out, salmon in Ätran. Photo: Rasmus Hansen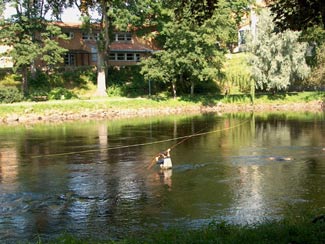 Flyfisher in the hunt for the hot Ätran salmon. Photo: Randolph Stenlund.
The fishing area is centrally located in Falkenberg and the distance is about 2.5 km long. Fishing is very accessible with good transport links and promenades on both sides. The lower part, Garvareforsen, is intended primarily for fly-fishing while on the upper stretch is also allowed to spin fishing and bait fishing with shrimp. From May 1the lower part reserved for fly fishing. Sea trout fishing is best in April. Salmon fishing is best from May to September.
Ätrans tributary-Högvadsån Here you can in good water flow also fish for salmon.
Ten thousands Ätran salmon have been saved from the problem of acidification thanks to limestone projects in Högvadsån. Annually spread in Falkenberg about 6 million kg limestone flour at a cost of 3-4 million.
So see a Ätran salmon out, short and compact. Photo: Randolph Stenlund.