Motalaström springs from the lake Vättern near the city of Motala. Then Motalaström flows eastward through the lakes Boren, Roxen and Glan on its way to Bråviken and the Baltic sea by the city of Norrköping.
The name Motalaström can be a bit confusing because it's misleading and makes you think that you are going to Motala on your fishing trip when you in fact are going to Norrköping. There have been discussions in the local press if it shouldn't be changed from Motalaström to Norrköping's ström or just strömmen to make it less confusing.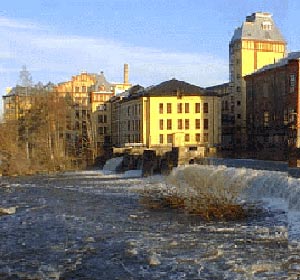 Motala stream in Norrköping.
Here are big fish, what is said about this salmon.
Motalaström in Norrköping is one of few places in Sweden where you have a great chance of catching big sea trout. In 2001, 23 sea trout over 8kg were reported and 7 of them weighed more than 10kg.
There is also a plan to create an exclusive fly fishing zone in the so called Industrilandskapet, from Grytsdammen in the west to Hästskodammen in the East. Between those dams you can find strong streams with great pools.
Since 1988 salmon and sea trout have been stocked annually. The salmon come from Luleälv and the sea trout comes from the Gullspång population.
Large trout from early season fishing.