Bondalselva in Örsta municipality Sunnmøre is a popular small salmon river that salmon live about 1 mil. Its headwaters get it from the south and west of the Voldsfjorden / Austefjorden and the area around Volda municipality. Highest peak in the precipitation area is Skårasalen, which is 1542 m above sea level. Bondalselva culminates in Hjørundfjord at Sæbø.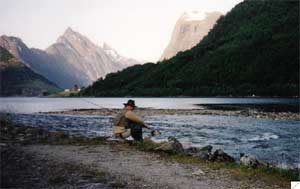 A picture from Bonndalselvas outlet. Photo Per in Vråa
Bondalselva is normally one of the better small salmon rivers in the region. But it has had a slump a few years of low catches. Bondalselva are like many other small rivers, very dependent on good water distribution and safest time in late June when the river is filled with melt water from the mountains. At the bottom sections, Sone 1 and 2. A distance of about 700 m from the outlet to the sea and up, it is only allowed to fly fishing. Most of the salmon caught on the lower 5 km, there are also sea trout. Highway 655 is flush with Bondalselva.
Bondalselva is divided into three fishing zones sone 1, 300 m It sold 6 hour card and is only for fly fishing sone 2, 400 m sold 3 hour card and is only for fly fishing sone 3, is the other river stretch of fishing area, and this allowed spinning, bait fishing and fly fishing Record salmon in the river is 16.5 kg